Hanne Hukkelberg is from Norway and she makes complex songs using sounds from typewriters and other everyday objects. Her album Rykestrasse 68 is out now.
We met at her label's offices in Camden. It was very quiet.
Roy: How are you? What are you up to?
Hanne: Well the first thing on my list is we're playing at Queen Elizabeth Hall on Thursday and also we have just finished a European tour. It's been a lot of playing around all Europe and my focus now is just playing with my band.
Roy: The recorded songs are so complicated, are the live versions different?

Hanne: Yeah, it's quite different. It's not more simple it's just otherwise.

Roy: Where did you enjoy playing the most? What were your favourite places?

Hanne: I was quite surprised by the small places we were playing in Germany and in other countries and also in England. We played in Norwich which is a really nice little town. I was so surprised by the small towns in England actually because it's so many stone houses and really all the way through the city it has history. It's really nice because we were travelling in a coach and we just woke up to a new city every day and could explore the new city.

Roy: Do you own any pets?

Hanne: Yeah, not at my home but I was raised with cats. I always had a cat in my parent's house so I have a cat there except I don't live at home anymore.

Roy: Do you miss it when travelling?

Hanne: Yeah. I don't think much about it. I love cats and I wish one time I could have a cat of my own but I live in the city so it's not really an option.

Roy: Do you have any nicknames?

Hanne: No.
Roy: As we're an arts magazine, we are very interested in your influences from photography and poetry and other arts…

Hanne: I'm very interested in Photography. I like photographing a lot. In general I am interested in composing and that means also in photography and pictures and visual stuff. So I'm getting more and more interested in photography. I'm really into making pictures my own and pick how to compose the picture and what at the front, what at the back and that sort of thing.

Roy: How about poetry?

Hanne: I don't read a lot of poetry actually.

Roy: Listening to your records there seems to be a bigger emphasis on the music than on the lyrics…

Hanne: I'm getting more and more harsh on myself when it comes to making lyrics. I find it difficult. I started making lyrics myself as a teenager. Instead of writing a diary I was writing lyrics in English just because I thought that maybe one day I could use them for songs but I wasn't really picky. I didn't work a lot on them.

Roy: Do you use these diaries now?

Hanne: Not really. I can get inspired by them. I try not to look so much back. It's not really interesting to me what I thought back then, what's interesting for me now is not yet written. I'm trying to produce new things all the time.

Roy: If you were a super hero, what would your super power be?

Hanne: Super-ears, super-listen? maybe? I don't know…

Roy: What new music are you excited about at the moment?

Hanne: I'm not really good at listening to new music… there's so much to listen to so I don't really get a view because there is too much. I always think I'm not listening to everything I should listen to so it often ends up with putting on the radio and listening to what they are playing.

Roy: Is there anyone specific you really like?

Hanne: Yeah, I like… a lot of what I like I don't know what it is because I listen on the radio. I know the songs but I don't know what band it is… I can mention a lot of bands that I listen to like Radiohead, Motorcycle, Nina Simone, Stevie Wonder and classical music and rock music, The Pixies. A lot of that that I like. Yeah, there's a danish band I listen to recently - Mew. I know the bass player in the band.

Roy: If Coca Cola wanted to use a song of yours in an advert, would you say yes?

Hanne: It's important for me to support what I think is right and now it seems that even Coca Cola does nice things once in a while, I know about things not totally right. For me as an alternative artist it doesn't seem really interesting now but if I was asked, I would certainly do some research and if I said yes I would have really good arguements for doing it. What I won't support is multinational corporations that use child workers and pollution and abuses… yeah, these wrong things…

Roy: In the 60's people believed music could change the world, do you believe that's still possible?

Hanne: I hope so. I saw a video on MTV just in the airport now and there was this band just singing about we need peace and I kind of missed bands that had this message, this type of… there's too few bands that sing for peace.
So I kind of have a vision about this thing… I think I have to move slowly because it's difficult to express right these things because it's not my style to use these big words so it has to move together with the music because I think music itself also has a power but I also work on the lyrics to maybe use messages in the lyrics in a way that works with the music. I think I started with that with my record, Rykestrasse 68 but maybe there's a lot of artists with me there. I miss the big messages, to see that an artist really wants something or wants to do… U2 and Bono they want it but really…

Roy: Maybe for the wrong reasons…

Hanne: Maybe,it's possible…

Roy: How do you come up with all the crazy sounds you use?

Hanne: A lot of those soundscapes, they are often made together with my producer. He's really good at making the sounds the right way on computers and stuff. So together we're a really good team because we both have really good ideas and we also use a lot of time on just ideas and being creative together. The sounds just come spontaneously from that…

Roy: So would you say that your producer is essentially a part of the band?

Hanne: Yes. He IS also playing in my band, yes. Yeah, he's playing the accordion and the piano and a bit of banjo.

Roy: It seems that many producers play really passive roles…

Hanne: I think that many producers have less passive role than many people think. Almost any musician I talk to, they are often very scared of the producers because the producers have a lot of opinion of how to make the music because maybe bands and artists don't really know what the producer wants and he's someone that has a very important role in shaping your music into a certain style and make it special and it's really important to know what the producer really does and should do and also should not do.It's so good with my producer because we know each other so well and we know how to work together so well.

Roy: What was your dream occupation as a little child?

Hanne: I wanted to become a singer.

Roy: Really, as a little child?

Hanne: Yeah. I was singing since I was little.

Roy: Could you please draw us a self portrait?

Hanne: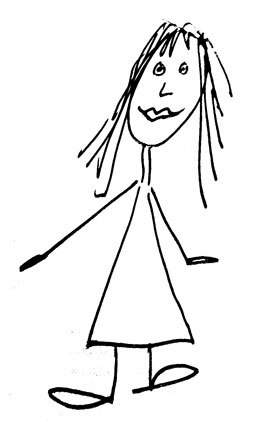 Contributors
Roy Marmelstein
Roy is the Editor and Founder of Platforms Magazine.